Company
RE-imagining sustainable energy...
Formed with the attitude — Now is the time! Revolution strives for new ideas and new approaches to today's energy challenges. Don't let the opportunity to save money and energy pass you by.
Awards
Revolution Energy was recognized by Green Launching Pad (GLP) as one of five winners out of a total of 71 growing businesses in their competition to unleash the most innovative green businesses in New Hampshire.  GLP is a program that brings together entrepreneurs, experts, faculty and students to build green businesses with the potential to be successful in the clean energy market.  GLP is partnered with UNH, the New Hampshire Office of Energy and Planning, and the US Department of Energy that assist with funding.
Revolution Energy is a proud winner of Green Launching Pad as well as excited about our new role in helping the environment and the economy by creating jobs.  As part of this program Revolution Energy will have a few energetic interns for the summer to help with various aspects of the business.  Marketing and updating the business plan will be a couple of the ongoing projects as well as other smaller tasks.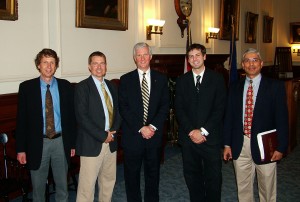 In the spring of 2011 Revolution was selected to present at the New Hampshire High Tech Council (NHHTC). The NHHTC's mission is " to bring together representatives from the private and public sectors to establish and maintain financial, technical, management, legislative and educational support programs that encourage innovative research and technology-based industrial development in New Hampshire." Revolution Energy announced at this presentation it's patent filing for the first ever Solar Hot Air Power Purchase Agreement process, among other opportunities Revolution sees within New Hampshire and the greater region.
Current Projects
From Twitter